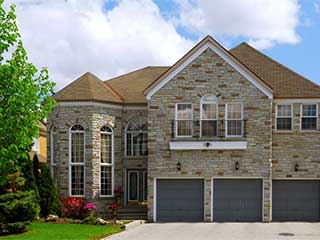 Conserving energy on a daily basis can help us protect the environment. The less energy we use, the less pollution there will be. An added benefit of that is that we'll also be able to save some money, as our HVAC systems will require less energy to maintain the indoor temperatures of our homes.
Reducing Heat Transfer
According to several studies, we lose a substantial percentage of our indoor temperature through our garage doors. That means that your HVAC system will be working overtime in order to maintain your desired temperature, which means it will spend more energy, and you'll pay more. However, if you get your door insulated, heating or cooling your home will become much easier.
Protecting Your Belongings
Many homeowners use their garage as more than just a place to park their car. They often turn them into easy access storage spaces, where all sorts of miscellaneous items and equipment are kept. If your garage door isn't properly insulated, weather conditions from outside can come to affect anything that's stored in your garage. Whether it's cold or hot temperatures or excess moisture that manages to seep through. You wouldn't want your belongings to get damaged or destroyed simply because you didn't bother to take the necessary precautions.
Common Insulation Materials
The two most common insulating materials are polyurethane and polystyrene. Both of these are polymers, which means they are synthetic plastic substances. Polystyrene is the older one, while polyurethane is the newer variety that's sometimes prefered in certain conditions. Although they can seem indistinguishable, they differ in terms of their composition, their ability to resist certain chemicals and their level of flexibility.
Buying an Insulated Door
Although getting your current door insulated is usually a viable option, getting a new one that's already prepped this way is also a good idea. You'll have to check what the new door's R-value is, as it will determine how insulating it will be.
Our experts at Garage Door Repair San Mateo can consult with you and help you find a door that's perfect for your specific needs, as well as sturdy and affordable. Call us today.