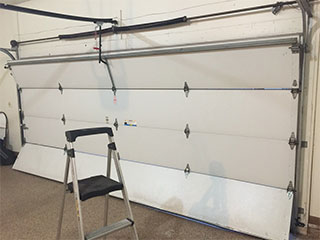 Don't wait for repairs to be necessary. You can save both money and time by having your garage door undergo professional maintenance.
Proper Spring Adjustment & Lubrication
There are many varieties of garage door springs, but no matter what type or brand you have, routine maintenance will ensure that they stay in an excellent condition for as long as possible. After all, dealing with a broken spring can be dangerous, and should only be performed by professional technicians. By making sure they are routinely inspected and lubricated, you'll be able to avoid the majority of potential accidents, thus better ensuring your safety.
Preventing Small Issues From Growing
The main benefit of regular maintenance is that any minor issues will be caught well in advance of them becoming large problems. Our technicians will examine every inch of your system, and if any part is found lacking, we'll replace it on the spot, thus preventing it from causing problems later on. This will also help other parts function longer without getting damaged, as oftentimes when one part breaks down, other ones suffer from collateral damages.
Opener Safety Tests
Your garage door opener is both the engine and the "brain" of your system. Modern models usually have several features that ensure both the safety and security of their operation. During our maintenance appointments, our technicians will perform routine tests of your opener's features, making sure to pay close attention to the safety sensors in particular. If we find that they've become misaligned, we'll straighten their position right away.
Checking The Tracks
While our technicians will inspect your door's tracks, they'll make sure no dents have developed. If we find any, we'll straighten them out right away, or replace the entire track if necessary. If there's an accumulation of dirt or debris that could potentially hinder your door's operation, we'll make sure to remove it.
Contact Us To Schedule an Appointment
Our experts at Garage Door Repair San Mateo offer complete solutions to all sorts of related problems. Our technicians have expertise in handling all types of doors and parts, and we can make sure your system is functioning in the best possible condition for as long as it possibly can. Call us today.
In addition, we offer:
Part Replacement & Lubrication
Belt Drive Garage Door Openers
Oil Tempered Torsion Springs
New Garage Door Installation